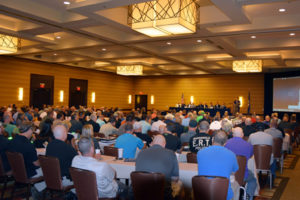 The Kentucky Narcotic Officers' Association Training Conference will be held September 1-2-3, 2021 at the Downtown Hilton Hotel in Lexington.
On Wednesday following the opening ceremony we will have legal updates and some additional training still under review.
We will also have an intelligence sharing meeting once again facilitated by Mike Brackett, JCSO, Matt Gelhausen (LMPD) and Steve Wright, (ROCIC).
---
The second day of the conference will begin at 8AM.
 Courtroom Survival and Narcotics Investigation – 8 hours
Conducted by Retired Detective/Reserve Dallas PD Officer Byron Boston with Professional Law Enforcement Training
This course is appropriate for officers involved in the investigation of narcotics cases.  Effective courtroom testimony by law enforcement officials is necessary in today's world of case prosecution.  Successful prosecution depends in part on a competent and professional presentation to the jury and/or judge by the law enforcement official.  Most law enforcement officials receive little, if any, formal training regarding courtroom testimony.  This course will teach officers the do's and don'ts of testifying.  They will learn the courtroom process and procedures.  In addition, they will learn how and why a personal connection must be made with the judge/jury and how to identify and protect their personal credibility.
8 hour block of training which is in the process of KLEC Certification
The third day of the conference will also begin at 8am.
Street Academy: Survival Tactics for Police Officers – 4 hours
Conducted by Retired Sergeant Jeff Smith with Street Cop Training
This course is appropriate for all law enforcement officers and designed to save the lives of police officers everywhere.  This course will cover how committing small everyday tasks such as gear placement, and how proficiency in things like handcuffing and handgun reloads need to be committed to muscle memory to be performed subconsciously under severe stress.  This course will open the eyes of younger officers and reinvigorate seasoned cops by stressing to them the importance of mental rehearsal, having pre-planned options for certain events, and stress inoculation, so that under extreme duress our cognitive brain will be able to function and provide us with survival options from "The Drop Down Menu in Our Brain."
4 hour block of training which is in the process of KLEC Certification
The formal conference application will be out in very early August and we have a block of free rooms available at that time. The final number of rooms is pending but should be about the same as previous years.  If your agency is able to pay for your room, that does make more rooms available to others whose agencies are not budgeted as well.  The following link can be used to reserve a room if you or your agency are paying for the room.
https://www.hilton.com/en/hi/groups/personalized/L/LEXDTHF-KNOA21-20210831/index.jhtml?WT.mc_id=POG
---
Please find the link the new KNOA membership form for 2021 as all we ask is that you become or maintain your membership.  We will have a "First Tactical" package (polo, ect.) that is much more in retail value than the $40 membership.  First Tactical was started by the founder of 5.11 and he and his company are very supportive of law enforcement. We have found the quality of their products to be excellent.
---
Exhibitor Application:
KNOA Exhibitor Application-2021